正確なモニタリング環境、そして確かな技術。
マスタリングで重要なのは、まずは適切なミキシングが施された楽曲、そしてエンジニアとのコミュニケーションです。
決して、優れた機材があれば成功するという類いのものでははありません。
しかしながら、テクノロジーに裏付けられた機器は、アーティストが楽曲に込めた思いをより多くの人に届ける手助けをしてくれます。

Most important in mastering is the music appropriate mixing has been performed, and communication with engineers.
Never, it is not intended kind of physician will succeed if there is equipment excellent.
However, equipment that is backed by technology, for us to make the good sound.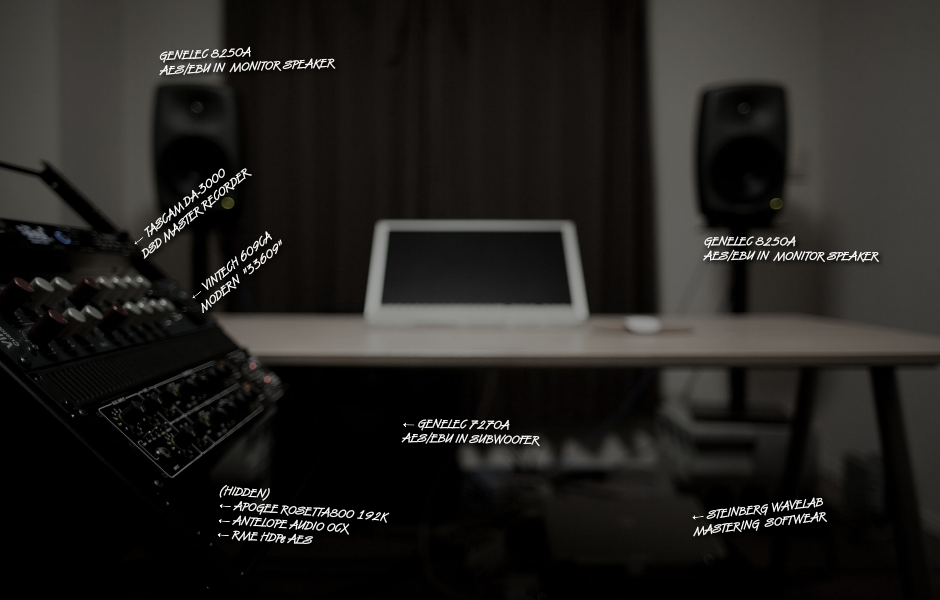 PART
GEAR
MAIN MONITOR
GENELEC SAM™ MONITORS & GML™ Version 2.0 [ 8250A + 7270A + 8300-601 ]

updated!

HEADPHONE
SENNHEISER HD800-S with HDVA 600, SONY MDR-CD900ST, Fostex T20RP
CONVERT
GRACE DESIGN m905, BURL AUDIO B2 ADC, APOGEE ROSETTA 800 192k, TASCAM DA-3000
MASTER RECORDER
TASCAM DA-3000 [ DSD 2.8224/5.6448 MHz / PCM 44.1/48/88.2/96/176.4/192kHz ]
MASTER CLOCK
Antelope Audio Isochrone OCX HD
INTERFACE
RME HDSPe AES
CPU
Mac OS Intel Core i7 4 Core 4GHz with 40GB RAM
PLAYBACK & EDIT
Steinberg WaveLab 8.5
DIGITAL PROCESSING
Brainworks, Flux::, FabFilter, Slate Digital, Sonnox, WAVES etc...
ANALOGUE PROCESSING
Vintech Audio 609CA, DANGEROUS MUSIC BAX EQ, api 5500, TK AUDIO S-Blender

new!

WIRED BY
BELDEN 8412 & 1192A, CANARE L-4E6S & DA202, MOGAMI 2932 & 3162, PROVIDENCE SL-R2L62, OYAIDE AS-808B etc...
REGULATED POWER BY
Matsushita, Noguchi Trans, Sinano, Chikuma, OYAIDE, ACROLINK, MITSUBISHI, REQST, ZONOTONE, KOJO etc...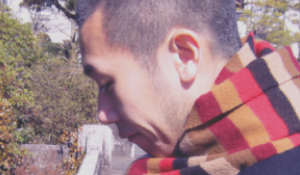 ENGINEERED BY DOVUASKI
Sound Artist, DJ, Engineer, Drummer, Founder of〈SAD〉.
サウンドアーティスト、DJ、エンジニア、選曲家、ドラマー。レーベル&スタジオ〈SAD〉オーナー。
NEW AGEジャンルのレーベルを運営する一方、ダンスミュージックやレゲエ、ダブ、ヒップホップにも造詣が深く、ローエンドを自在に操るマスタリングに定評がある。